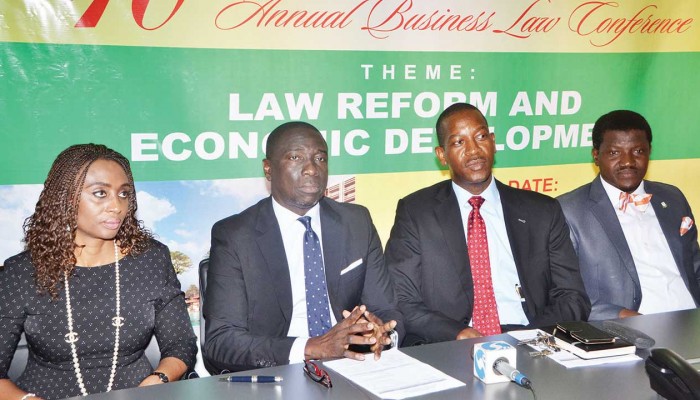 NBA's section on business law holds conference to boost economy
NBA's Section on Business Law (SBL) 10th annual business law conference will hold from June 22 to 24, 2016 at Transcorp Hilton Hotel, Abuja. The theme of this year's conference is 'Law and Economic Reform'.
According to the organisers, the conference will seek to create an environment for business lawyers within and outside Nigeria to network and engage on issues relevant to their fields and to establish a thriving relationship between the business community and government institutions.
As they anticipate, the conference will bring together some of the best policy formulators' regulatory, financial, business and legal minds.
"The conference is structured to bring value to everyone from the Public Sector, the Private Sector and even those from the informal sector of the economy. There's a large offering for a wide range of participants within and outside Nigeria; be it individuals or corporate organisations, the council committee headed by Dr. Babatunde Ajibade (SAN), said.
In the words of the chairman of the Section, Asue Ighodalo, the annual business law conference is an international convergence of business lawyers, policy makers, regulators, judges, the business community and academics, which takes place annually in Nigeria.
He continued: "The SBL has its primary constituency and members who make it a duty to be a part of the conference every year. However, it also has a large followership from the business community and the public sector. The conference theme yearly attracts regulators, policy makers, corporates, business owners, etc., who find something to look forward to each year from the array of topics and discourse at the Annual Business Law Conferences.
"The event, which begins with an opening ceremony on Wednesday June 22nd, 2016 will be attended by the Vice-President of the Federal Republic of Nigeria, Prof. Yemi Osinbajo, (SAN), GCON. He will also deliver a paper on "Africa Rising – Managing Africa's Economies for the Benefit of its Peoples" After which, the conference will be declared open.
"Other confirmed attendees include, Dr. Kayode Fayemi, Hon Minister of Solid Minerals; Dr. Babatunde Raji Fashola, (SAN, Minister for Power, works and Housing and Dr. Lanre Babalola, the Former Minister for Power, who will all be chairing and speaking at various sessions".
According to the programme the sessions at this year's conference will focus on laws that directly impact on businesses in Nigeria – with a view to critically examining how certain laws could impede businesses and become disincentives to economic development and how to get better laws for positive growth.